​Star's Chihuahua's
​
As a breeder of Chihuahua's ​I was having trouble finding dog beds that were small enough for my
tiny dogs and puppies. I had almost given up on finding any thing when I was told about Tot's and Paw's. I contacted the owner Patsy and told her what I was looking for and wanted. She was friendly ​and very helpful and told me she could make me just what I had been looking for and in the fabric's of my choosing. She quickly emailed me some pictures that day of her dog beds and fabric's and to my surprise she had exactly what I had been looking for. With in 2 weeks I had several of the beds delivered to my home and was DELIGHTED with them. The quality was 100% and my dogs loved them. I was so impressed with them I decided that everyone of my puppies needed to have one when they went to there new forever homes. That was 2 years ago and I now have a beautiful designed dog bed that is just for my puppies and all the Star's families. The families are always so happy and love the wonderful beds. Tot's and Paw's now supply me not only the dog beds but amazing doggie pillows and birthing beds for my new Mom's and puppies. I have also had them make children's furniture for many of my families children. I would HIGHLY RECOMEND Tot's and Paws. They give 120% to all there clients and there products are the BEST. It is a total pleasure to work with Patsy. Thank you for all you do for me and my furbabies..
Valerie

www.starschihuahuas.com
​​​
I was so pleased when I found Pat and seen all the beautiful children's furniture she made. My great niece is so hard to buy for so when Pat said she could make her a shay lounger with princesses on it I was so excited to see it. When I picked it up I was amazed at how well made and beautiful it was.. The day I gave it to Victoria she was so thrilled with it and so was I with the big smile on her face.. Here is a picture of her sitting in it.. Thanks for making a little girl VERY HAPPY. I would totally recommend Pat and her work is perfect, be on my expectations.
​Marie
Tot's and Paw's has been designing and building furniture for children of all ages for the past 20 years.

​​ We feel children's safety comes first! With years of experience and your imagination we can create a one of a kind look that will last for years.
​
​We look forward to working with you!

"​Hello, my name is Pat and I am the owner of Tot's and Paw's.
​Each one of my pieces are designed and made by myself. I take great care and pride to make all my furniture from the finest products. I assemble each piece with love and care and the safety of each child. I will work with you to design and produce a piece you will love for years to come. No job is to big or to small. From tiny puppy beds to adult loungers. Contact me and lets make your dream a reality."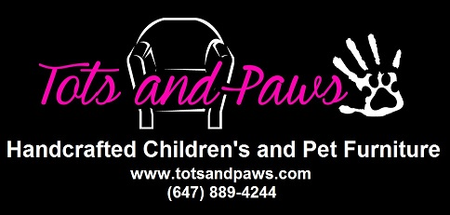 "We take pride in all our work."